Our
Staff
We are extremely proud of the team we have built at Alpha-Rowen and every member of that team is keen to provide the best possible service to our customers. Let us demonstrate to you the capability of that team and use the experience and knowledge that they have gained.
Quality
Department
Michael Hill, Quality Manager

Mick is the longest serving Alpha-Rowen employee and has vast knowledge and experience of the austemper process. qualifications from both City & Guilds and the IQA in Quality control as well as having attained the Level 3 Certificate in Operations Management. Contact Mick for any quality concerns you may have or for any technical advice about austempering.
Production
Department
Adam Haynes, Production Planner

Adam is responsible for the production planning of the furnaces and is the key customer contact for scheduling work to meet customer requirements. He can be contacted through switchboard option 1 or by e-mail.
Administration
Department

Fay Forrest (L) runs the Administration Department. Fay is another long serving employee having 20 years service with the company. Fay handles the majority of the admin including the invoicing and should be contacted for any queries related to that area.
Kerry Gibbons who is the newest addition to Alpha-Rowen's staff supports Fay in the administration duties.
Maintenance
Team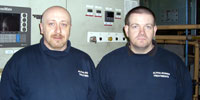 Ivor (L) and Dave (R) have practically spent their whole working lives on furnace equipment. They are responsible for the routine maintenance of the plant as well as attending to breakdowns. Their input is vital in keeping the plant running in the difficult environment (heat and salt).
Day Shift
and Night Shift
Our operators are extremely experienced with many having over 10 years service with the company. Our shifts also contain Inspectors providing regular quality checks throughout the night. All operators receive in house training and the majority are multi-skilled across all the equipment.
Distribution
and Goods Inwards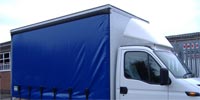 We operate two vehicles both locally around the West Midlands (Redditch 3 times per week) and down the M5 corridor. We handle both collections and deliveries for many of our customers are always happy to help where we can. We also forward on work to the next processing step for many of our customers.